The modular eco clipper mowing system (fits on any tractor)
The eco clipper mowing system is modular, each module has three rotary blades and has a width of 106 cm. The modules can be linked together to form a wider mowing deck. The modules can move freely relative to each other so that they perfectly follow the contours of the soil.
Optimal dispersal of grass clippings and a high-quality finish
Rotary blades powered by powerful electric motors have a high rotational speed resulting not only in more cuts per meter and finer clippings but also in a high-quality finish. The inside of the modules are completely smooth and flat and lined with a 'anti-stick' lining, so that grass clippings are optimally dispersed.
Low impact on the soil
The eco clipper® mowers are lightweight on large tyres, which minimizes soil compaction and enables taster grass root development. The side decks can be shifted in order to change trails.
Insensitive for weather conditions
The mowing result is not very sensitive to wheater conditions. This means that the mowing can be planned to follow the growth of the grass. The removal of excessive clippings after wet periods can be minimized.
Hi work speed and low maintenance
Electric powered mowers allow high working speeds from 12 km/h up to 25 km/h (depending on conditions) and require less maintenance. Eco clipper mowers enable cutting heights from 20 mm up to 90 mm.
eco clipper mounting options
The front mower can be supplied with its own generator, enabling independent use, or without a generator for tractors without front PTO. There are two generator options: two generators on front and rear or one larger generator on rear: no front PTO required. The eco clipper mowers can be attached to a tractor in different ways, below you can see in which ways.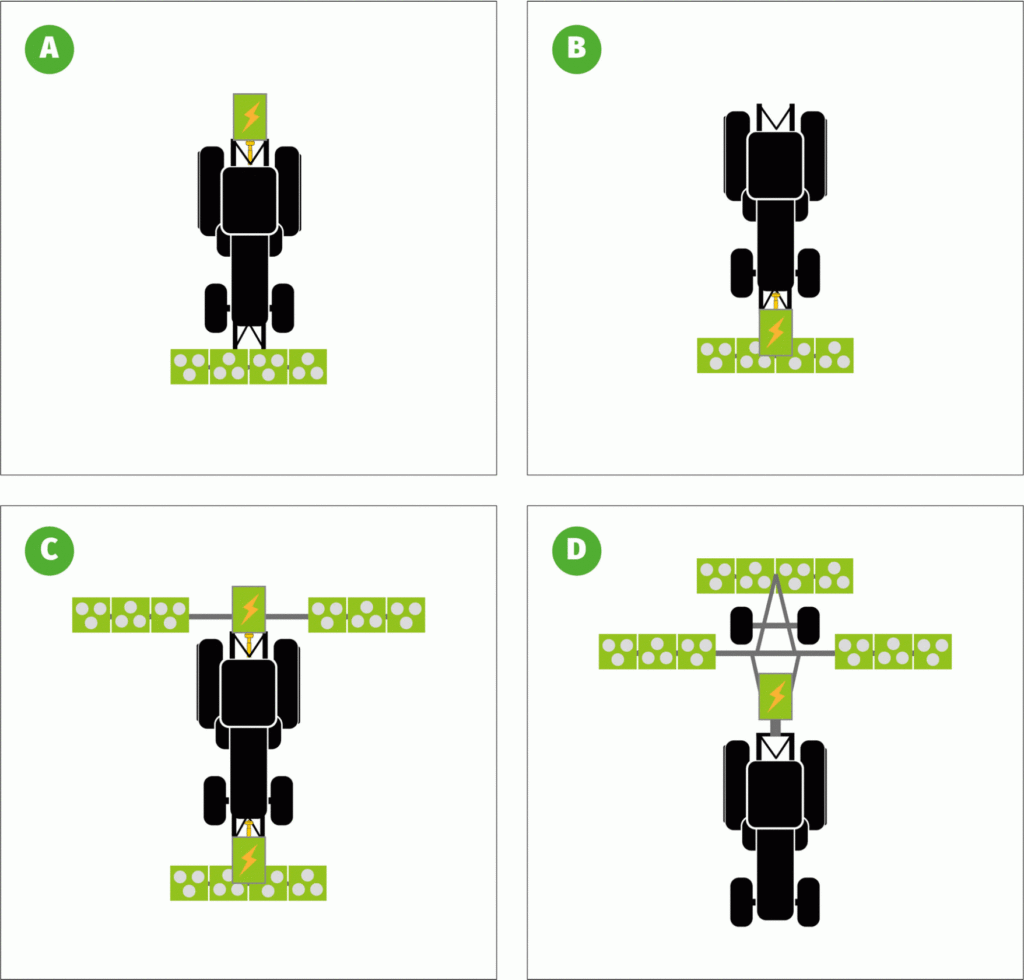 A Connected to the three-point hitch in front of a tractor and the generator connected to the rear PTO.
B Connected to the three-point hitch in front of a tractor with a generator connected tot he front PTO.
C Connected to the three-point hitch in front and on the rear of a tractor with front and rear generator.
D Towed behind a tractor